FRAUD AND SMUGGLING OF PETROLEUM PRODUCTS: 10,040 Litres of Essence seized by the Ministry of Water Resources and Energy
FRAUD AND SMUGGLING OF PETROLEUM PRODUCTS
10,040 Litres of Essence seized by the Ministry of Water Resources and Energy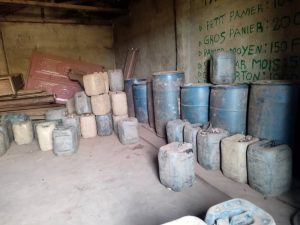 Still in line with the firm determination of the Government to completely eradicate the adulteration of petroleum products in Cameroon, the usual dynamic team of the Mobile Brigade for the fight against fraud and adulteration of petroleum products from the Ministry of Water Resources and Energy working together with law enforcement, carried out an intense operation on the 13th of April 2023 in Magbe, Foumban and Foumbot.
A total of 10,040 litres of Essence was seized in the above localities.
The recalcitrant fuel adulterers obviously seem not to be ready to give up on the illegal activity which definitely is juicy to them, but a treat to human life and the government's economy as this practice greatly disrupts the country's supply chain of petroleum products and causes enormous economic losses.
Nevertheless, the department of Petroleum products and Gas that happens to be incharge of this operation is not also ready to bow out any time soon.