THE NACHTIGAL DAM RAISES HOPES
                           Electricity Supply Increase
THE NACHTIGAL DAM RAISES HOPES
With an overall completion rate of 80%, the first megawatts from the Nachtigal Dam are just around the corner.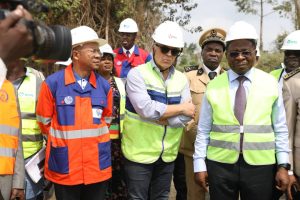 'Develop within two weeks a synchronized work schedule that will allow the Nachtigal Dam to inject 60 Megawatts (MW) into the Southern Interconnected Grid ( SIG) as early as the first ten days of December 2023': This is the strong recommendation made by the Minister of Water and Energy, Gaston ELOUNDOU ESSOMBA, at the end of his working visit on January 20, 2023; recommendation jointly addressed to the General Manager of the Nachtigal Hydroelectric Development Project and the General Manager of the National Electricity Transmission Company (SONATREL).
Actually, the Water and Energy Minister conducted a working visit to the sites of the Nachtigal Hydroelectric Development Project last Friday. This visit follows the Esteemed Instructions of the President of the Republic, H.E Paul BIYA who, in his message to the Nation on December 31, 2022, prescribed to the Government the commissioning of the first phase of the said dam in 2023, with the aim of increasing energy supply in our country.
It is on a journey of more than 3 km that he could see the progress of work in detail, from the closure dam to the four transformers, through the main dam, the  dam water intake, the diversion gates (openings for water flow), the Nachtigal 225 KV switchyard and the concreting works.
Moreover, to inject the energy produced at the dam into the distribution network, the transmission lines must be operational. This is why the Minister of Water and Energy also visited the NYOM II substation and the Nyom II – Oyomabang transmission line, which are 75% completed. There again, at the end of a working session he chaired, he reiterated his recommendation to develop a synchronized and joint Nachtigal Project – SONATREL work schedule, with a view to injecting 60 Megawatts on the SIG during the first ten day-period of December 2023.
The Nachtigal hydroelectric dam will eventually produce 420 MW, distributed over seven (07) generators of 60 MW each. The first partial commissioning will therefore consist in operating the first generating unit to inject 60 MW into the SIG. In addition to the seven generating units, a 4.5 MW plant at toe of dam will be installed to produce and supply electricity to the localities around this important facility.
As a reminder, the Nachtigal Hydroelectric Development is a huge infrastructure that extends over four divisions of the Centre Region. The Nyom substation is located in Yaoundé in the Mfoundi Division, the operating site in Batchenga in the Lékié Division, while the main dam is located across the Upper Sanaga and the Mbam and Inoubou Divisions.